| | |
| --- | --- |
| Note: My Web pages are best viewed with style sheets enabled. | Unrated |
To and Across Canada
Montréal Botanical Garden
Part 1: The Outdoor Gardens
Copyright © 2003 by David E. Ross
---
The beds of the bog garden are approximately at ground level, each bed in a separate concrete tub. Because many bog plants tend to be low growing, the walkways are below ground level so that visitors can get a close look.
---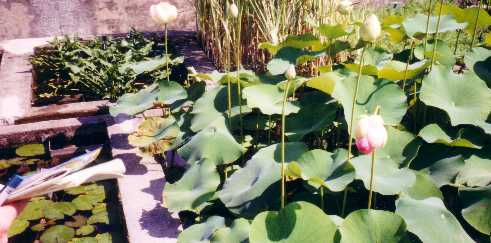 Lotus (Nelumbium) blooming in the bog garden.
---
This bonsai was outdoors. We also saw bonsai in the greenhouses.
---
The Peace Bell is at the edge of the Japanese Garden.
---
The central feature of the Japanese Garden is a large pond. Here we see a koi swimming among the water lilies.
---
A narrow, white beach is at the left of the pond in the Japanese Garden.
---
The pond seen from another side.
Here, the beach seen in the previous photograph is at the right. That previous photograph was taken from a path along the hill in the upper right of this photograph.
---