| | |
| --- | --- |
| Note: My Web pages are best viewed with style sheets enabled. | Unrated |
To and Across Canada
A Day in San Francisco
Copyright © 2003 by David E. Ross
---
This is the entrance gate to San Francisco's Chinatown, at the lower end of Grant Ave. Evelyn and I have walked through Chinatown many times in the past. This time, we decided to skip it.
---
In Union Square, Evelyn sat to rest and write in her travel journal.
---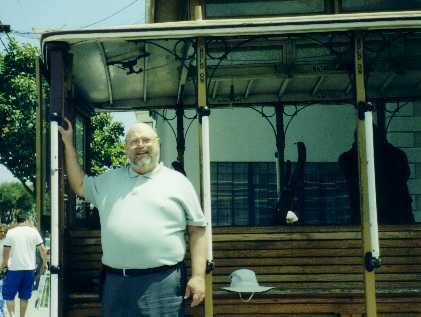 We rode a cable car to Fisherman's Wharf (of course). This photograph was taken at the end of the line, while the cable car waited for other cable cars in front of it to clear the turntable.
---
While walking from Fisherman's Wharf to Ghiradelli Square, we passed a souvenir shop with this gorilla sitting in the entrance. We both said, "Allen!" Our son really does a very good ape imitation.
---
Evelyn is a preschool teacher. Each classroom has a name, hers being "The Brown Bears". We saw this toy shop while continuing our walk to Ghiradelli Square.
---