| | |
| --- | --- |
| Note: My Web pages are best viewed with style sheets enabled. | Unrated |
What's Blooming in My Garden Now?
27 May 2018
by David Ross
Excludes new plants obtained while in forced bloom.
New entries are added at the bottom of each area's list. Thus, entries at the top of each list indicate plants that have been blooming the longest.
Front
pink clover (Persicaria capitata)
rose: 'Oregold', 'Pink Perfume', climbing 'Fourth of July'
Christmas "heather" (actually a heath, Erica canaliculata 'Boscaweniana')
'Goodwin Creek Grey' lavender (Lavandula lanata × dentata)
Back
wax-leaf begonias (B. semperflorens)
'Goodwin Creek Grey' lavender (Lavandula lanata × dentata)
roses: climbing 'Peace', 'Salmon Ovation', 'Iceberg', 'Sunsprite', 'Arizona'
pink clover (Persicaria capitata)
Cuphea hyssopifolia (false heather)
candytuft (Iberis sempervirens)
fortnight lilies (Dietes iridiodes)
dwarf citrus: navel orange (C. sinensis 'Robertson'), lemon (C. limon 'Eureka', which blooms on and off all year long),
gardenia (G. jasminoides 'Veitchii')
azaleas: 'Pride of Dorking', 'George Taber', 'Formosa'
amaryllis (Hippeastrum)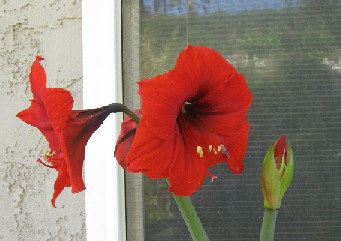 cheddar pinks (Dianthus gratianopolitanus)
epiphyllum (orchid cactus)
Back (continued)
daylilies (Hemerocallis): 'Stella de Oro'
Alstroemeria
gardenia (G. jasminoides 'Veitchii')
bearded iris (I. germanica): 'Batik', 'Study in Midnight', 'Gold Galore'
star jasmine (Trachelospermum jasminoides)
Penstemon
cinquefoil (Potentilla neumanniana)
statice (sea lavender, Limonium perezii)
foxglove 'Illumination Flame' (Digitalis purpurea × canariensis)
Also see My Garden Diary
---